All the voting is in and we are very proud to announce our 30th season 2016-2017 Individual Award winners.
The Art Ross trophy for League Leading scorer goes to  USA #5 Dan Barrett.  Dan is the very first defenseman in league history to win the Art Ross.  He had a stellar campaign with 10 goals and 28 assists for a 38 point campaign in just 16 games played.  Dan a truly class act that on most nights would rather pass the puck than shoot.  Playing in only his 3rd season has won awards in each of them and will surely continue as his career in the PCOHL continues.  He is a asset to our league.  Congrats Mr. Barrett!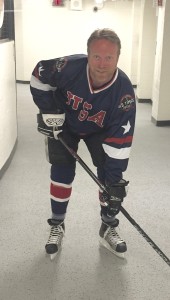 The Vezina for Best Goaltender goes to Finlands #1 Frank Rispoli.  Frank lead the league with a 3.00 goals against average.  This is Franks 4th Vein trophy win, 3 in the last 4 years.  Like a fine wine Frank gets better with age.  Unfortunately Frank got injured early in this seasons playoffs and is rehabbing to get back in next year.  Congrats Frank!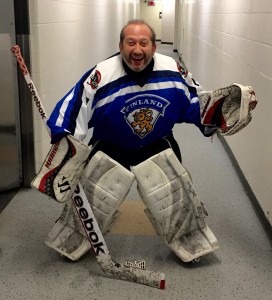 The Rocket Richard trophy for most goals scored goes to Polands #12 Robin Flumerfelt.  Robin scored 20 goals this season this 5th in the PCOHL.  Not sure if we can call Robin a sniper but he knows how to put the biscuit in the basket and this season he is our very best.  He spent the most time with Brenda so maybe she is the reason Robin scored so much.  Well done Robin!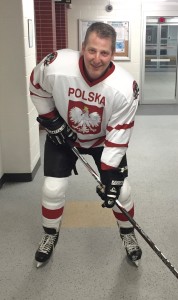 This years Calder trophy for best rookie of the year goes to USA #1 Art Senkowski.  Although this was his official rookie year Art has been a fill in back stop for us for years.  A top goaltender for sure and a well deserved winner as our best rookie.  Special shout out to Polands Paul Barbosa who collected some votes as well with his stellar 24 point season.  Congrats Mr. Senkowski future Polish back stop if his agent can swing a deal.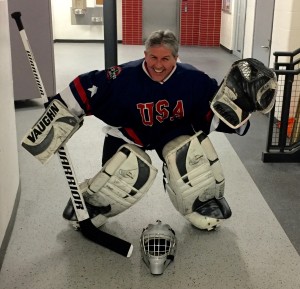 The Norris trophy for Outstanding Defenseman goes to Finlands #12 Sal Guerra.  This is Sal's 4th Norris trophy win and is a top 5 defensemen year n year out.  A big presence on the blue line who has averaged a point a game for his career.  Long time member both in the league and on the Exec and truly a class act.  Rarely spends any time with Brenda except when she has to get paid.  Honourable mentions out to Polands Robin Chantaj also getting some votes this season.  Congratulations Sal!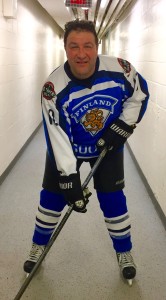 The Hart trophy for our leagues Most Valuable Player goes to Finlands #9 Marcelo Diluzio.  Marcelo and elite centreman lead the league in scoring for most of the season only to be passed in the last week by Barrett.  Marcelo finished 2nd with 17 goals and 17 assists for a 34 point season in 17 games.  Whats with the number 17?????  In only his 3rd campaign in the PCOHL Diluzio already has over 100 career points.  He was definitely the leader of the Fins record breaking season this year and is hoping to win his 2nd Gold medal.  Congrats Marcelo!!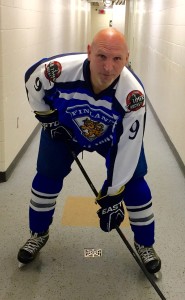 This year Selke Award for Most Improved Player goes to Polands #3 Frank Nweisser.  Frank a veteran had a 19 point season this year versus an 8 point season last year.  Frank a hard working 2 way forward helped lead his Polish team to a 2nd place finish this season.  Honorary mention also goes out to Swedens Ron Cormier and to Canada's Ron Chantaj for getting some votes this season in our balloting.  Great job Frank and congratulations!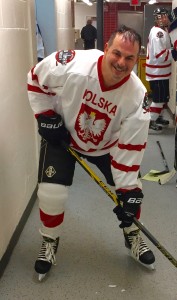 So only one more individual award still to be decided and thats the Conn Smythe for Most Valuable in the Playoffs.  Will select after our Championship Night.  Please reach out with the Exec and congratulate all of our individual award winners.