Week 10 Recap End of Round 2
Last Friday night we completed our 2nd round of 5 rounds regular season games.
Early game between Sweden and USA.  All Americans in the opening frame as they score 4 unanswered goals to open this one.  USA out score the Swedes 2-1 in the 2nd period for a 6-1 lead.  Final period finished in a 3-3 draw for a dominant USA victory of 9-4.  USA got 2 goals from both Ron McKean and Paul Barbosa.  Singles from Dwayne Tygesen, David Rinaldo, Steve Waters, Joe Cosentino and Jodie Young playing in his first game of the season.  Sweden got 2 goals from Mike Rukavina and singles from Robin Flumerfelt and Brian Ree.  Classy touch by USA Moe Connell just shooting the puck in on a partial breakaway late in this game.  USA went 3-4 on the PP and Sweden was 0-0.  Players of the Game goes to USA Jodie Young and to Swedens Jay Cummings.  Horns are still down but lots of smiles in the Swedish dressing room as the first aid kit was in action.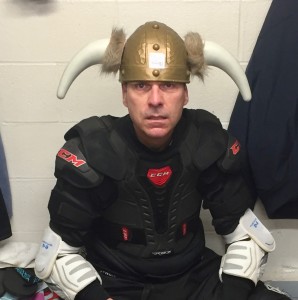 Late game looked to be a beauty as #1 Canada was facing off against the surging #2 Polocks.  Polish players were smiling in the pre game warm up as Canada's top 2 forwards were not dressed for this big game.  Start cooking the victorious perogies was over heard on their bench early.  Canada scores the lone goal in the first period on a tightly fought battle.  The 2nd period saw Canada out score Poland 2-1 for a 3-1 lead after 2.  Canada goalie Rispoli looked real sharp in this one.  Rispoli continued his fine play through most of the final frame and was rewarded by his boys scoring their 4th goal with 5 minutes to go and an empty netter late for a huge character win 5-1 playing short handed.  Canada went 1-2 on the PP and Poland was 0-2.  Canada got a hat trick from rookie Tim Martins and singles from Enzo Ianno and Paul Harty.  Poland got its lone goal from Pat McCormick.  Players of the Game went to Canada's rookie Tim Martins with a 4 point night.  Poland awarded Johnny Annan.
So 2 rounds in the books and Canada sits on top of the league with a 6-1-1 record.  Finland and Poland are tied for 2nd with 10 points.  USA bounce back with a big win and a record of 2-4-2 and 6 points.  Sweden just cannot get going and sit at the bottom of the pack with a 0-7-1 record.  Finlands Jimmy Maguire still leads in all scoring categories but USA Rob McKean is surging in 2nd spot.  Canada's Paul Alloway a runaway rookie success is now out for an extended period with an upper body injury.  Fellow teammate and rookie Tim Martins is filling his shoes nicely.
This weeks games on December 1st will kick off our 3rd round.  9:15 pm Sweden will do battle with the rested Fins.  10:30 pm USA will face off against their rivals Canada.  Poland gets the week off.
See you all on the ice and reminder if anyone has any donated prizes for our Holiday 50/50 fundraiser please bring this week and give to Mark Plewes or Mike Rukavina.  Mark will be around selling tickets this week.  $5 for one or 5 tickets for $20.
See you all on the ice!!!  REMINDER RIDE has begun so please be careful and safe.