Week 11 Recap – Start of Round 3
OK 2 games last Friday night kicking off our 3rd round of 'Pre Season' games, that's for you Leo.
Early game had a playoff atmosphere to it.  Sweden vs Finland the Scandinavian rivals.  Finland scored the lone goal in the 1st period.  Sweden tied it up early and then Finland took back the lead with 6 minutes to go in the 2nd.  Sweden tied it up late in the period.  Final frame belonged to both backstops as they shut out all shooters for a 2-2 final score.  Great game!!!  And NO penalties, the Holiday spirit was quite evident.  Tim Martins and Bryon Wright scored for the Swedes.  Steve MacDougall the sophomore sensation scored both Finlands markers.  Obviously the 2 goalies were awarded the Player of the Game.  Frank Rispoli and Scott McCallum.  Finland has joined the team POG hat parade, thanks Patty Sharp.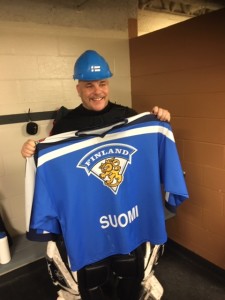 Sweden get a hat!!!!!!!!
Late game was not as even as the early match as Canada faced off against the Trumpsters USA.  Canada got 3 goals in the 1st and 4 goals in the 2nd and then cruised the rest of the way as they woop the Americans 7-0.  Art Senkowski gets his 2nd shutout this season, wtf, shutout on Friday nights are as rare as Joe's girlfriend not coming to watch her man battle every Friday night.  Enzo Ianno gets a hat trick for Canada, John Annan gets 2 markers and Eric Fletcher and yes our Prez Alan Robb playing his first game of the season scored.  This game also was penalty free which means Brenda had ZERO visitors all night long, sad very sad.  Proud of you guys!!!!  Players of the Game went to Art Senkowski for Canada and for the USA Tim Randa but not sure of the image they sent me but here it is.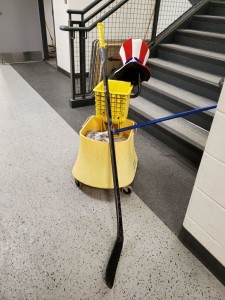 I guess that is what happens when you lose 7-0 on a Friday night.  The best Tim has looked all year I must say, and there is nothing wrong with that, he is from Sudbury.  Canada we need a hat for your POG.  My name is JOE and I am Canadian!!!!
This weeks games will go Friday, December 7.  9:15 USA will face off against Finland and at 10:30 the rested Polocks will skate with Sweden.  Canada gets the week off.
Mark Plewes will be around again this week selling our 50/50 Holiday Fundraiser.  $5 a ticket or 5 for $20.  Please support and we are getting lots of additional donated prizes that are pretty cool.
See you all on the ice lads!