Week 25 and end of our 20 game pre-season shedule
Ok last week a couple of big games ended our 33rd regular season games.  Early game a big one for Canada facing off with Poland.  Canada needed a win to hurdle Finland in the standings for the 3rd seed.  A late goal for Canada with 13 seconds left on the ticker in the 1st period gave Canada a 3-1 lead.  Canada out scores Poland 3-2 in the 2nd period for a 6-3 lead after 2.  And more of the red and white in the final frame as they out score Poland 3-1 for a big win of 9-4.  That was Canada's 3rd win in 4 games and may have got hot at the right time.  Canada went 1-4 on the PP and Poland 0-2.  Poland got 2 goals from their leader Alan Robb and singles for Frank Arruda and Gerry Boudens.  Canada got 4 goals from Rob McKean, 2 goals from Robin Flumerfelt and singles from Patty Sharp, Robin Chantaj and George 'don't drop the soap' Letsos.  Fiesty affair to end their seasons.  Players of the Game went to Polands Alan Robb and Canada's rookie David Skingley with 5 assists in this one.  Only a face a mother can love.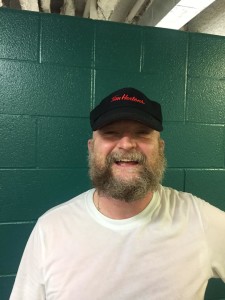 Patty Sharp, league leader in scoring had 2 points in this one giving him a 3 point led on USA Di Luzio and a 4 point lead on Swedens Brideau.  And these 2 schlepps were warming up on the ice for the late tilt.  Things that make you go mmmmmmmm.
Late game a huge affair as Sweden faces off against USA to end our 33rd season.  Winner of this one gets the top seed for the playoffs and loser gets the 2nd seed.  Also USA ageless backstop Bobby Ide leads the goals against average by 2 less goals vs Swedens Scottie McCallum for the Vezina.  All Swedes out of the gate as they looked sharp versus the rested Americans who went fishing in Florida for their week off.  4-1 Sweden after 1.  More Sweden dominance in the 2nd as they out score the USA 3-0 for a huge 7-1 lead.  Americans found their feet in the final frame scoring 3 unanswered but not enough left on the clock as Sweden wins this tilt 7-4.  USA went 1-3 on the PP and Sweden was 0-2.  USA got all singles from Marcelo Di Luzio, Dr. Joel May, rookie Johnny Ridge and Steve Atchison.  Sweden got 2 goals from Mike Rukavina and Eric Fletcher and singles from Leo Brideau, Joe Peacock, and the game winner from Tony Thomas coming back from the IR after a long absence.  Players of the Game went to USA sophomore Peter Freeman and for the Swedes their goalie Scottie McCallum who ends up passing Bobby Ide for the Vezina trophy by one less goal.  Please note the attached picture may offend some and please make sure children are not in view of the screen as you scroll down.  Fair warning ahhhhhhhhhhhhh????????????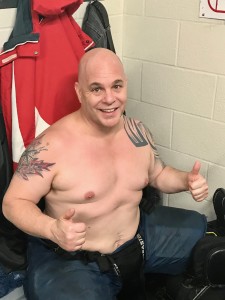 So with Patty Sharp watching in the stands how did his 2 trailing league leading scorers do.  USA Di Luzio finished with 2 points and 39 for the season, one down one to go.  Swedens Leo Brideau finished with 4 points and 40 for the season. And how great is that, good friends, old teammates finished tied with 40 points each and will share the Art Ross trophy.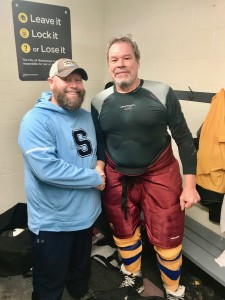 Congrats to Scott McCallum winning the Vezina and these 2 bums winning the scoring title.  And now onto the Team stuff, Sweden is our regular season (Pre Season) Champions and will be our #1 seed for the playoffs.  USA will be our #2 seed.  Canada our #3 seed, Finland #4 seed and Poland our #5 seed.  Note last year and many others the #1 seed does not win the Championship and #5 seed won last year, go Poland go!!!!  Sweden finishes 2nd in goals scored 96 and first in goals against.  Swedens special teams were not good with a 5th place PP and 4th place penalty kill.  Even strength the best in the league.  USA lead the league with the most wins 12 and 3rd best in goals scored with 94.  They were 3rd in both PP and PK and lead the league in both penalty minutes by almost double with 92 but also lead the league with 5 short handed goals scored, Flyers from the 70's.  USA also led the league in attendance with 86%.  Canada may be our hottest team in February and March and lead the league in scoring with 107 goals.  They finished 2nd in both PP and PK.  Finland  finished 4th with 7 wins and 4 ties and also have won their last 3 games in a row and may be ready for the playoffs as well.  Finland was tops in the league with a 33% PP and a 93% PK allowing only one PP goal against in 14 tries.  Poland finished 5th with 4 wins and 4 ties.  Lead the league in least penalty minutes with 38.  4th best PP and 5th PK.  Poland also had the lowest attendance in the league at 71% requiring many fill ins through out the season.
More on the individual side.  Patty Sharp not only finished tied with Brideau in scoring with 40 he won this seasons Rocket Richard trophy with most goals scored with 27.  Patty how does #1 pick overall next year sound on you?????? No Pressure bud.   Brideau led the league with helpers with 25 usually won by Dan Barrett.  Rookie USA Johnny Ridge wins the Johnny Sparrow trophy with most time spent with Brenda with 20 minutes, what's going on there???  Finlands Tim Freeman wins the rookie scoring race with 21 points followed by Canada's Dave Skingley with 15 who was injured for half the season.  USA Marcello Di Luzio scored the most game winners with 5 followed by Patty Sharp and Joe Peacock.  Dan Barrett edged out Jay Cummings for highest scoring blue liners with 25 and 22.
So that's it for our 33rd season in the books and we will update career stats in the next few weeks.  Our playoff schedule is set and confirmed.  Please note many different time changes and day changes BUT all games will be at Port Credit arena.  Next week Friday, March 13 we will open our playoffs with #2 vs #5. USA vs Poland at 9:15 pm.  USA dominated their match ups with 4 wins and 1 tie.  Late game at 10:30 will be a doozy as #3 vs #4 will feature Canada and Finland.  Canada holds an edge with 3 wins 1 loss and 1 tie during the season but note the last time they met Finland won 5-3.  Sweden gets the 1st week off.
Also friendly reminder to fill out your 2020/2021 season applications and get your $50 deposit to Sal Guerra or Gary Julius in the next few weeks.  Deadline for final apps for next season is our Championship Night April 17.  If you know you will NOT be returning please let us know as soon as possible so we can best prepare for next season on new and returning players.
See you all on the ice and good luck to all teams who sit in a 5 way tie for 1st as of today.