Last Friday night kicked off our 2nd round of regular season games.
Early match between Canada and USA.  All Canada in the opening frame as they out score the Americans 5-2.  2nd period was even as both squads score 3 times as Canada takes a 8-5 lead into the final frame.  Canada was just too much for the Americans on this night as they score 2 more goals in the 3rd for a final victory of 10-5.  USA went 1-1 on the PP and Canada was 0-0.  Canada got balanced scoring as rookie sensation Paul Alloway and veteran Paul Harty got 2 a piece and singles from Tim Martins, Murray 'Disco' Russell, Robin Chantaj, Neil Kelly, Marcello Diluzio, and Enzo Ianno.  Americans got 2 goals from rookie George 'don't drop the soap' Letsos, and singles from Steve Sparrow, Paul Barbosa and Joe Cosentino.  Players of the Game went to Canada's Paul Harty and USA gave their POG to 2 scratched players Steve Kostick and Jodie Young BUT they brought the beverages so much deserved.
Late game was quite the event as Sweden faced off against Finland.  A Battle of #1 and #5.  All Fin's in the opening frame as they scored 4 unanswered goals. Sweden scored early in the 2nd but Finland got that one back late in the 2nd for a 5-1 lead.  At that time Swedens goalie Bobby Ide was not feeling too good and asked for some help.  Now just note he had face 95 shots already and his teammates were unsure what was going on.  We helped him back to the bench where he continued to struggle and at that time we contacted 911 for help.  Fire and Ambulance arrived shortly after and took over.  Unfortunately no one had their cameras but Rukavina was telling Bobby he may have won the lottery as one of the ambulance employees was quite attractive.  Rukavina then tried to tell her he was not feeling well too but she ignored him and focused on Bobby.  The game was called at that time as they tested Bobby in the hallway and decided he was OK.  Back in the sombre Sweden dressing room all hell broke loose as nothing can be repeated on this public website.  Bobby was smiling though and all turned out well.  Most likely the fish tacos for lunch may have been the culprit or most realistically the 95 shots Sweden allowed on their ageless backstop was truly the cause. Enough was enough for Bobby.  Brian Ree got the lone goal for Sweden.  Finland rookies Peter Freeman got 2 gaols and Steve MacDougall, fully tanned from his trip to Mexico got a single.  Dan Barrett and Jim Maguire got singles as well.  Maguire with a 3 point night continues to tear up the individual scoring race.  Players of the Game went to Finlands Mark Plewes and Sweden honoured Bobby Ide.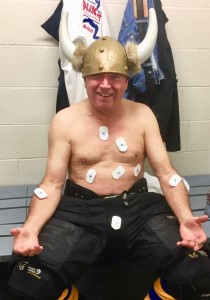 Whats all that stuff on Bobby??????  Why is one between his legs?????
This weeks games go Friday, November 3 at 9:15pm Poland vs Sweden and at 10:30pm Finland vs USA.  Canada gets the week off.
See you all on the ice!!!
A special thanks to all the Swedes and Fins that helped Bobby during the incident on Friday.