Finally our new season is back on! Week 1 Recap
We are back, thank goodness, it has been too long. Just a big thank you to all the Exec and all our members for being very supportive of the arena staff and following our protocols especially for Brenda, thank you all.
So our opening game between Slovenia and Ireland. Brideau has brought back his green pants and gloves and looks like the biggest leprechaun I have ever seen. Ireland missing a couple of players and the Slovenians missing 6 skaters needed 2 fill ins for week 1 and they got rookie Fedosoff and veteran Kostick to fill in. They made 48 phone calls until Jeff said YES!!!! Word has it that a rogue sheep ran amok during the Slovenian training camp thus the 6 players absent, not sure what the heck happened there, mmmmm. And Rukavina playing defense, my goodness what is going on. Opening frame scoreless and just the beauty display of hockey skills on both ends, not!!!! Ireland scored the only 2 goals in the 2nd frame as Dr. Joel May opened the scoring for PCOHL after 1.5 years off. Harty got the other one. Final frame saw Ireland score 3 times to Slovenias 2 goals. May got his 2nd and rookie Vincelli and McCormick scoring for the Irish. Dan Barrett and Cormier scoring for the Slovs. Final Ireland 5 Slovenia 2. Players of the Game were awarded to Irelands Dr. Joel May and for the Slovenians Ronald Cormier or better known as Gordie's personal concierge. There were 37 give aways and a break away that ended up on his face. Will not embarrass Fletch here at all.
Late game between maybe the most excited team Italia and Scotland. The Scots were just missing their weakest forward Robb for this one and Italy was short 4 skaters. Single markers for both teams in the 1st. For Scotland rookie Lonsdale and for the Ita's Paul Barbosa who wanted to be traded to Portugal but got a tap on the shoulder from his Italian wife and said NO!!!!! 2nd frame was tight too with both teams scoring twice keeping this match tied at 3's after 2 frames. Barbosa again with his 2nd and Johnny the fire plug Fasulo for Italy. Rookie sensation Brad Stoll exerting his early run for the Calder trophy with 2 goals for Scotland. All Outlanders ( great series to watch with the Mrs. trust me haha) for the final period as they scored 3 unanswered goals. 2 off the wood of Ianno and a single for Flumerfelt. Final Scotland 6 Italy 3. Scottish rookie had a Gordie Howe night with a goal 2 assists and a penalty. Players of the Game went to Scotlands rookie Brad Stoll and for Italia Frank Rispoli.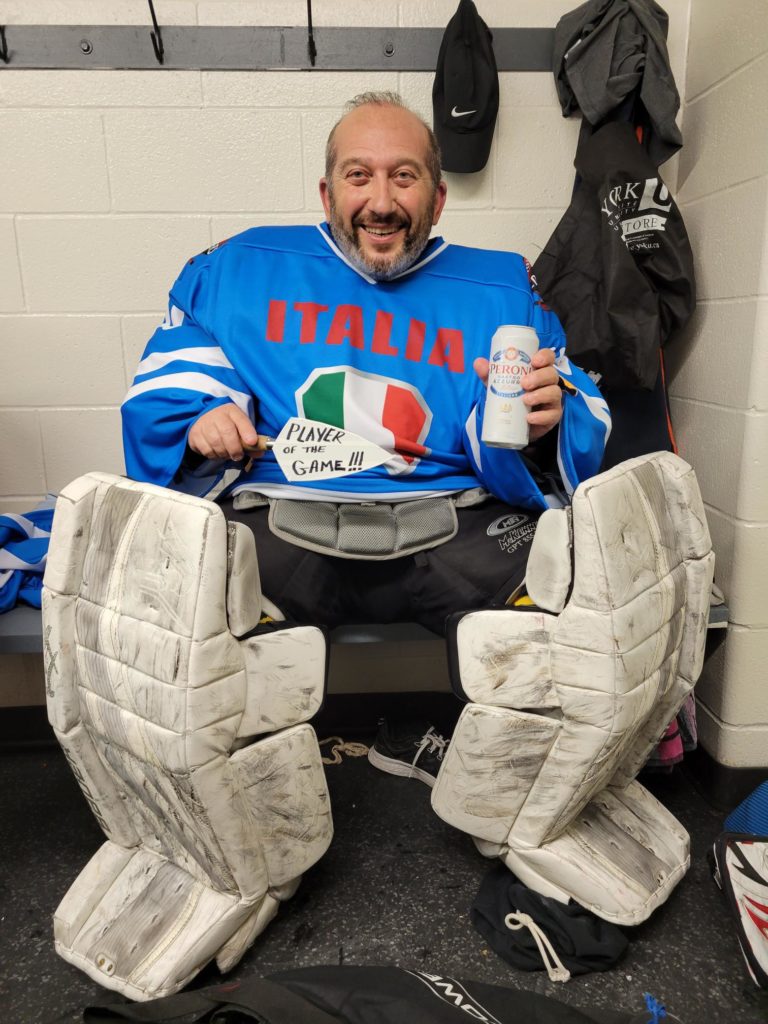 Some Peroni and what else? Cheese cake flipper?????
So we are off and running and I witnessed a lot of joy Friday night. Some trivial tidbits of information to share with everyone who has nothing better to do than listen to my verbal diahria. Our average age on opening night is 56.9. We have 3 x 70 year olds, Bruce Freeman at 75, Gary Julius at 72 both on Portugal. And Mark Plewes at 70 on Ireland. 27 x 60 year olds, 30 x 50 year olds and 15 x 40 year olds. Some big bdays this season – Robin Chantaj on Portugal turns 60 and Ron Cormier on Slovenia also turning 60 this season. 3 members will be celebrating their 50th bday this season. Patty Sharp on Scotland, Tony Deluca on Italy and Dave Vincelii on Ireland. Our youngest member will be turning 45 in December, Jeff Boulton. And next youngest Jay Fedosoff turns 46 in February. Portugal has the 2 oldest and the 2 youngest. Largest rookie crop ever in our league with 15 rookies. Their average age is 50 and the oldest among them is on Slovenia Ron Richardson who turns 69 this week. wtf a 69 year old rookie??????
The youngest team in the league is Scotland at 54.2 and they have the most rookies at 6. Then Italia at 55.9 with 3 rookies. Portugal at 56.5 with 2 rookies. Ireland at 58.1 with 2 rookies as well. And our oldest squad that may need the defibulater the most at an average age of 59.6 is Slovenia.
Next week, Friday, October 1, 2021 at 9:15 0-1 Italy will face off against the 1-0 Ireland. At 10:30 0-1 Slovenia will do battle with Portugal making their debut. Scotland gets the week off.
So lets please stay safe and remember we are a beer league with no scouts watching us, keep your sticks on the ice and keep the verbal stuff at a minimum. See you all on the ice!!!