Thanksgiving Games in the books. Early game between big time rivals Dupal Studios Italia and the Gary Julius Portuguese. A good game from start to finish. Italy out scored the Portuguese 2-1 after the first period. Portugal won the 2nd frame 3-2 as the teams were tied 4-4 after 2 periods. Italy took the lead with 6 minutes to go and added an empty netter to win this tilt 6-4. For Portugal 2 goals from rookie sensation Jeff Boulton and singles from rookie Dave Woodside and veteran Rob McKean. For Italy, with Portuguese bloodline, Paul Barbosa scored a hat trick and an assist for a big game. 2 goals from Johnny Annan and a single from the always smiling Jodie Young. Player of the Game went to Portugals #11 Jeff Boulton.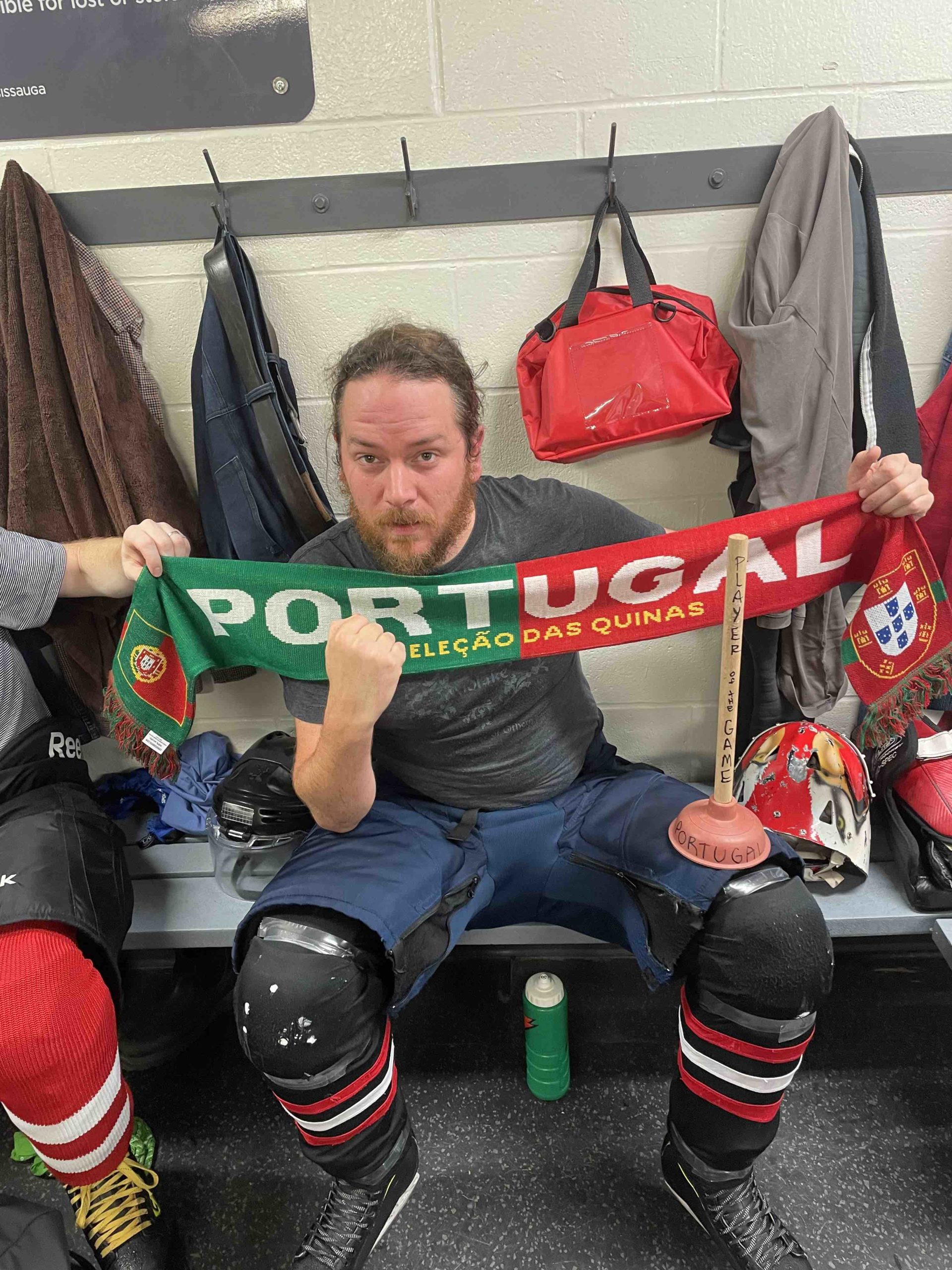 OK I see a plunger and a super proud Portugal player.
And for the Italians #11 Paul Barbosa.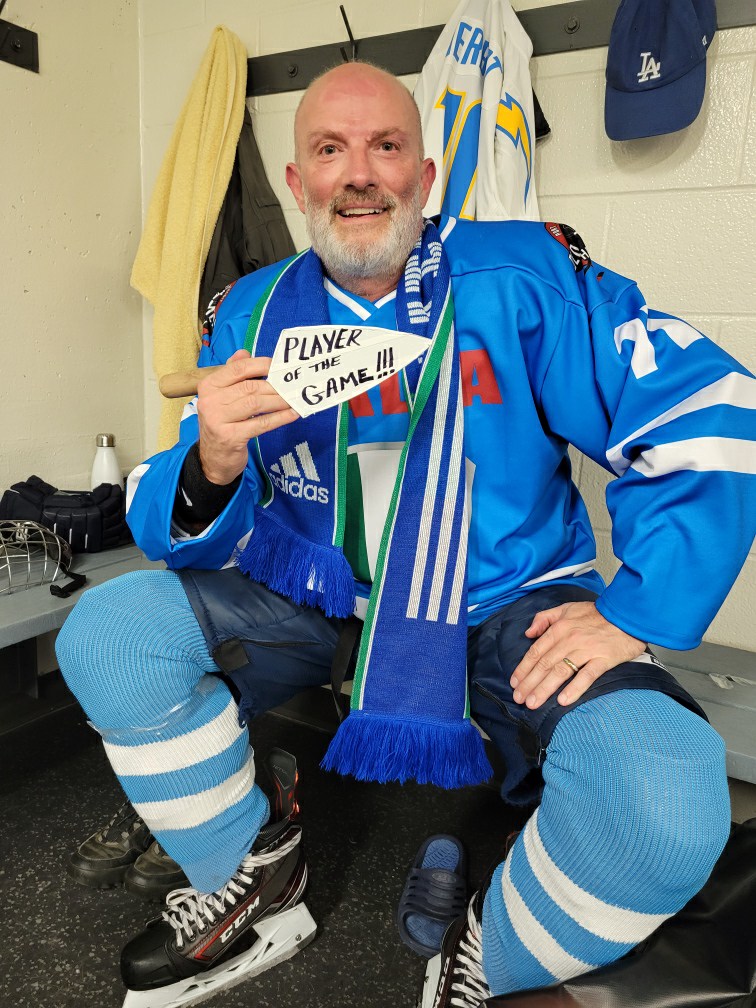 So I thought last week that was a cheese cake picker upper but NOOOOOO it is a trowel. It all makes sense now. Barbosa with an Italian wife had the best Thanksgiving ever!!!!!!!
Late game between 2 unbeaten teams Chinook Paddles Ireland and Rabba Fine Foods Scotland. Scotland opened this game with 4 1st period goals to Irelands 2. Scotland continued its dominance in the 2nd period out scoring the Irish 3-1 taking a 7-3 lead into the final frame. But wait the Irish still had some fight in them. An early 3rd period marker made it 7-4. With a little more than 6 minutes to go they made it 7-5. The Irish pulled their goalie with 2 minutes to go and scored right away making it a 1 goal game. Leaving their back stop out of the net for the extra attacker and they scored again as this game that looked so out of hand finished tied at 7-7. So exciting!!!! Ireland got 2 goals from Paul Harty and singles from Pat McCormick, rookie Dave Vincelli, Leo Brideau, Brian Spence, and Dr. Joel May. Scotland got a monster game form last seasons leader scorer Patty Sharp with 3 goals and 2 assists. Single markers from Frank Nweisser, Brad Stoll, Jason George, and Alan Robb. Ireland went 2-2 on the Power Play. Ireland was 0-0. Players of the Game went to Scotlands back stop #30 Tom Nieminem. And for Ireland #8 Paul Harty.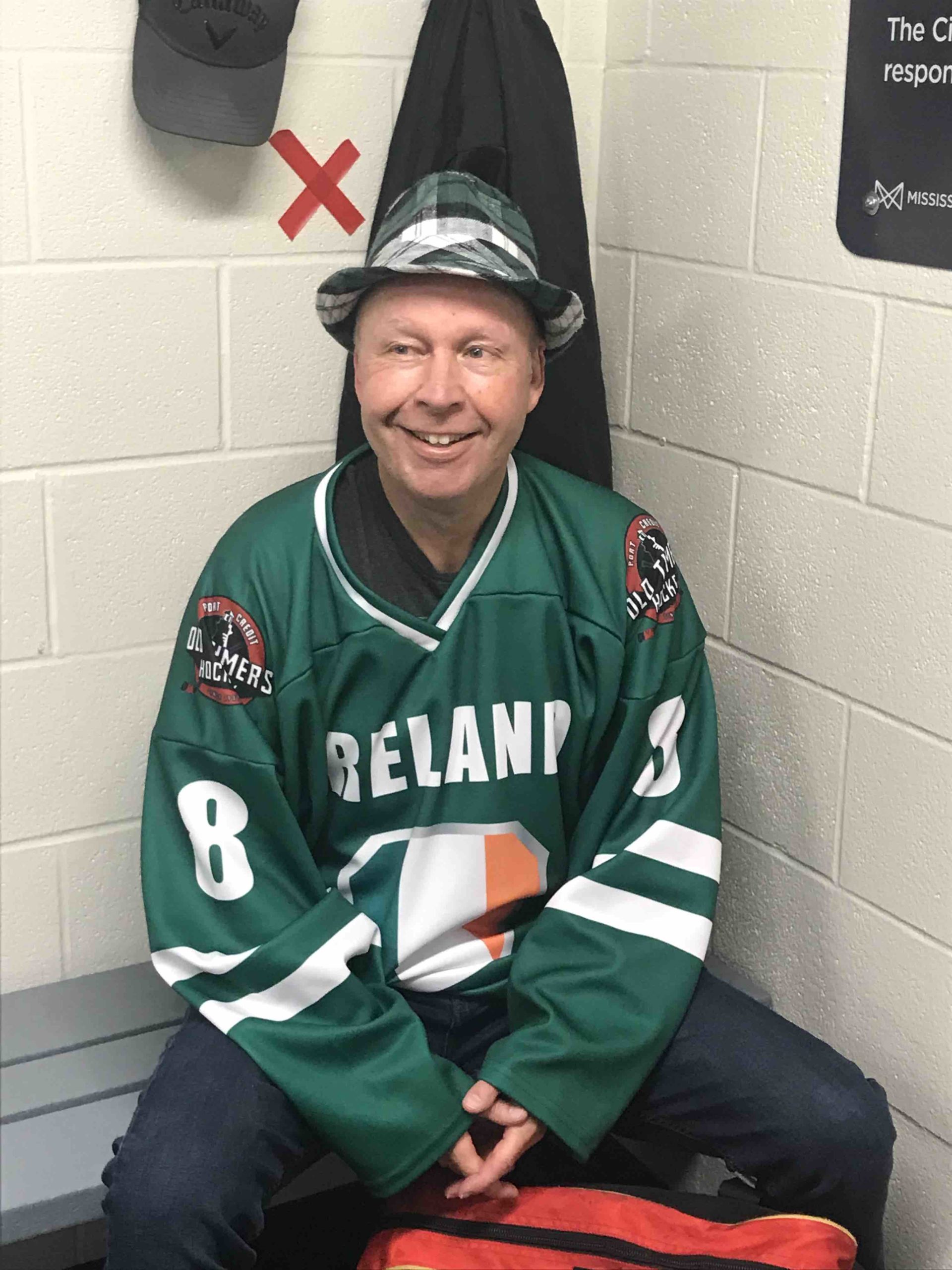 A Happy Leprechaun!!!!!
Ok this week Friday, October 15 at 9:15 the rested Slovenians will face off against the mighty Scottish. At 10:30 Ireland will do battle with Portugal. Italy gets the week off.
Lets all remember we are a beer league, lets keep our sticks on the ice and minimize our barking on the ice!!!
See you all on the ice!!