Ok last nights games recap, early match between the top seeded Irish and the 4th place Portuguese. Both squads full for this tilt. All Ireland in the first frame as they out score the Pork Chops 3-1. Portugal bounced back with maybe their best period of hockey this season as they out score the Irish 3-1 in the 2nd to tie up this match at 4's after 2 periods. The final frame saw many many opportunities for both squads to jump out front but both Senkowski and Henderson played larger than life and could NOT be beat. This one ends in a very good game and a 4-4 tie. Portugal got 2 goals from the always smiling never celebrating with his line mates Murray Russell and singles from Dave Wodar and a beauty from young Jeff Boulton. For the Irish all singles, ageless Rick Cecchetto, Patty McCormick, Robin Flumerfelt and Timothy Freeman playing on an all Freeman line for this one. Players of the game went to the always smiling, not, Stewart Henderson for the Irish. OK that is actually Stew smiling … a lot!!!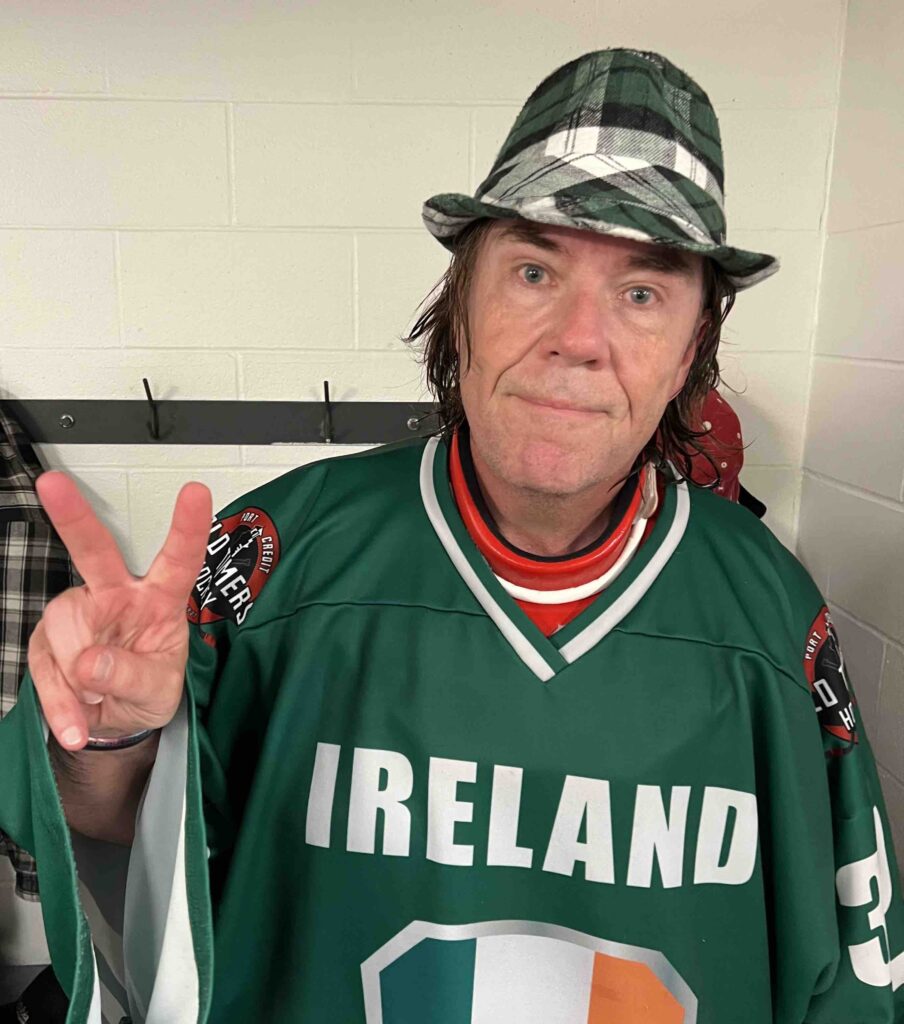 And for the Pork Chops the never smiling Art Senkowski, OK I'm messing around the always very happy Art Senkowski who told Rukavina in the room to f… off, I don't know exactly why. Whats on his head? Was that sanitized?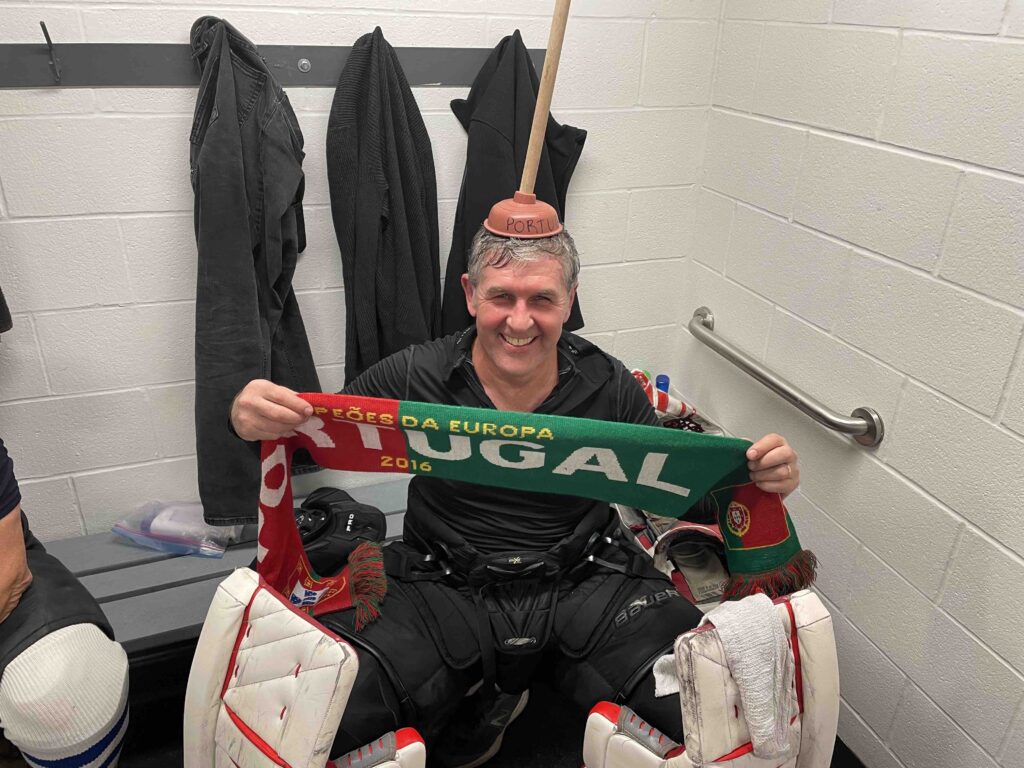 Late game between Scotland and Slovenia both with only 10 skaters. Scotlands Alan Robb was here and that was a surprise that boy never plays the late game but thank god he did because he must of been on drinks, he had a big game. 2-2 after 1 period. 3-1 for Scotland in the 2nd for a 5-3 lead after 2. All Haggis and stuff in the 3rd as they out score the Slivovica boys 4-0 for a big 9-3 win. Scotland got 3 goals from Alan Robb and last years Art Ross winner Patty Sharp with 4 goals. Singles from Frank Nweisser and Brad Stoll. For Slovenia rookie Scott Wilson, Paul Riopelle and Dwayne Tygesen. Players of the Game for Slovenia went to Scott Wilson with a 2 point night and for the Scots backstop Frank the Tank Rispoli. Now that he is retired he is always collecting empties and brings his bag around, mmmmm.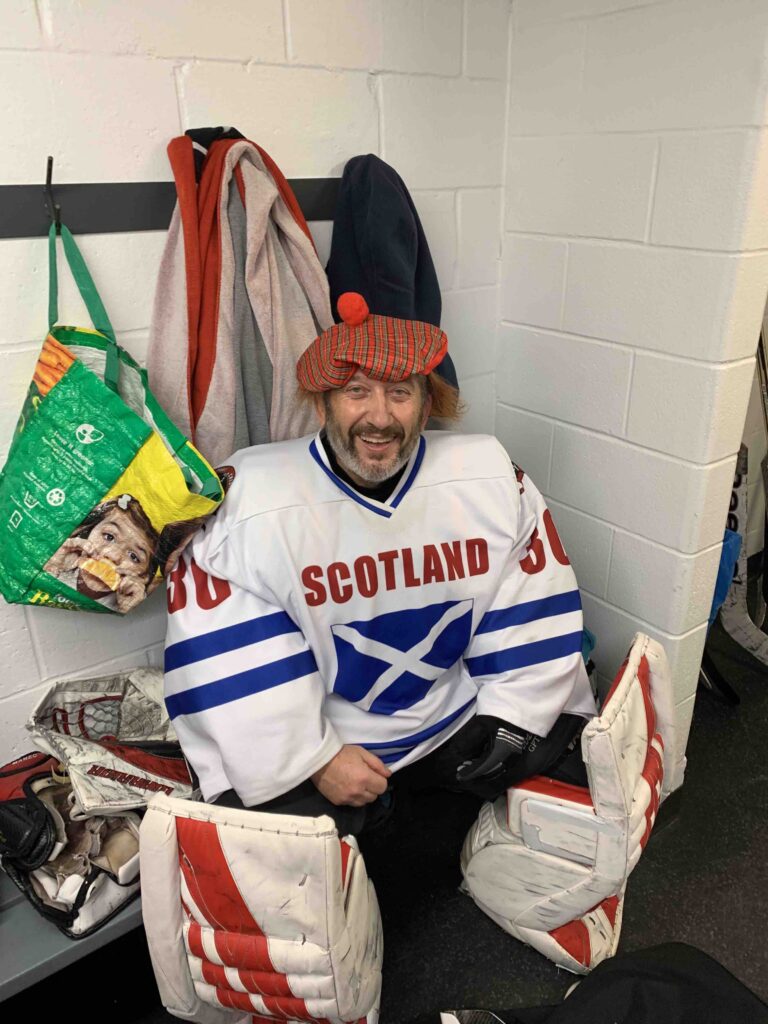 Ok this weeks games November 24 will be our last games of Round 2, not sure if the Exec will make any parity trades we wait and see. DO NOT unpack your suitcases just yet. If you remember Eddie the Polock our most traded member ever still needs therapy every year around this time. Early game at 9:15 Slovenia vs Italy and 10:30 Portugal vs Scotland. Ireland will be off and still remain in the top spot. See you all on the ice!!